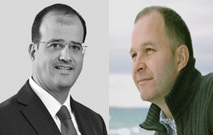 Date / time
20/01/2020
1:00 pm - 2:00 pm
Location
The Old Library, Lloyd's
In 2017, the UK's Prudential Regulatory Authority (PRA) issued supervisory statement SS4/17 in which it set out its expectation that all regulated insurance and reinsurance firms must have adequate capital provisions and reduce unaccounted for non-affirmative ("silent" or "unintended") cyber risks exposure. In response, the International Underwriters Association (IUA) and Lloyd's Market Association (LMA) have issued new cyber exclusions in 2018 and 2019 applicable to both marine and non-marine traditional lines of insurance.
Celso de Azevedo of Penningtons Manches Cooper and Peter Wedge of Swiss Re, who are both members of the Cyber Insurance Association, will review the most often currently used cyber exclusions in traditional lines of insurance (e.g. LMA2914/5 in non-marine property insurance as well CL380 in marine and offshore insurance) and contrast these exclusions with the newly issued cyber exclusions.
BOOK HERE
Booking for this event has now closed.
Location
The Old Library, LLoyd's
Speakers
Celso de Azevedo & Peter Wedge