The Trustees of the British Insurance Law Association Charitable Trust have established a prize known as the "British Insurance Law Association Book Prize". The Prize of £1,000 is available to be awarded annually to the author (or joint authors) of a published work constituting in the opinion of the Trustees the most notable contribution to literature in the field of law as it affects insurance.
How to apply / eligibility
To qualify for the prize the work must first have been published in the English Language in the calendar year immediately preceding the year in which the prize is to be awarded.
Authors wishing to have their work considered for the Prize should apply in writing to Ms Alison Green, BILA Trustee c/o 2 Temple Gardens, Temple, London EC4Y 9AY before 30th April in the year following publication, submitting one copy of their work.
The Trustees in their absolute discretion may decide that the prize shall not be awarded in any year and the decision of the Trustees on any matter relating to the Prize shall be final.
Winner of the 2019 BILA Book Prize
At the British Insurance Law Association's AGM held on 11 October 2019, in the Old Library at Lloyd's, Alison Green, Chair of the BILA Charitable Trust, presented the award of the 2019 BILA Book Prize to Paul Reed QC, Barrister of the Inner Temple, practising at Hardwicke Chambers for the following work:
Construction Professional Indemnity Insurance
First Edition, 2018
Paul Reed QC
Published by Sweet & Maxwell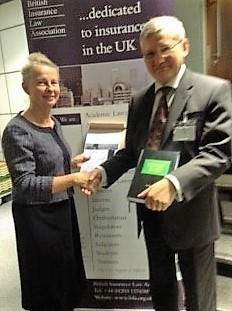 ( L to R: Alison Green, Chair, BILA Charitable Trust; Paul Reed QC)
This book, along with a number of other Sweet & Maxwell titles is available to order by all BILA members who will enjoy a 15% discount for for a period of 30 days by clicking here.
2018
Insurance Law Implications of Delay in Maritime Transport – by Dr Aysegul Bugra – Informa Law from Routledge
2017
Chinese Insurance Contracts – Law and Practice by Prof Zhen Jing – Informa Law from Routledge
2016
The Law of Motor Insurance by Prof Robert Merkin QC and Maggie Hemsworth – Sweet & Maxwell
2015
Marine Insurance Fraud by Baris Soyer – Informa
2014
Lloyd's: Law and Practice by Julian Burling – Informa Law
2013
Research Handbook on International Insurance Law & Regulation edited by Julian Burling and Kevin Lazarus – Edward Elgar
2012
Joint Winners: 
Liability Insurance in International Arbitration: The Bermuda Form, 2nd Edition, by Richard 
Jacobs QC, Paul Stanley QC and Lorelie S. Masters – Hart Publishing
The Bermuda Form: Interpretation and Dispute Resolution of Excess Liability Insurance by David Scorey, Richard Geddes and Chris Harris – OUP
2011
Dr. Judith P. Summer for Insurance Law & the Financial Ombudsman Service – Informa
2010
John Dunt of Clyde & Co for "Marine Cargo Insurance" – Lloyd's List/Informa