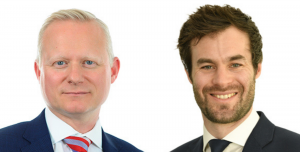 Date / time
30/11/2021
1:00 pm - 2:00 pm
In this webinar David McIlwaine and Stuart Davey, partners at Pinsent Masons, will look at recent case-law which may impact on data subject claims, particularly those following a cyber incident.
David heads Pinsent Masons' international cyber practice.  He is by pedigree a litigator and has over 25 years' experience of advising clients in relation to contentious technology and data issues.   He assists clients with all stages of the cyber life-cycle, including cyber readiness, incident response, regulatory investigation and challenge, and subsequent litigation. The team have advised on a multitude of cross-border cyber incidents.  David completed a secondment to the legal department of the National Cyber Security Centre (part of the UK's intelligence service), where he advised on regulatory issues, including in relation to the implementation of the Networks and Information Systems Regulations (NIS), which affects organisations that provide critical national infrastructure.
 Stuart Davey
Stuart Davey is a partner in the cyber team at Pinsent Masons. He advises on cyber readiness, breach response, and litigation arising out of data breaches. Stuart advises corporate and insurer clients in responding to cyber incidents by instructing IT forensics teams, working with criminal authorities and extortion experts, and engaging credit monitoring service providers. As part of this he has assisted numerous clients with the notification of personal data breaches to regulators (the ICO, FCA and otherwise), and with the management of the resulting investigation.  Post-incident, Stuart advises on data controller/processor disputes and the risks relating to data subject claims (and dealing with these claims when they arise). Stuart also advises both suppliers and customers of distressed technology projects. He is experienced in litigation, arbitration, mediation and other forms of alternative dispute resolution.
Speakers
David McIlwaine and Stuart Davey, partners at Pinsent Masons,